PR Društvo Slovenije / Slovenian Society for PR
Knjiga "9 korakov učinkovitega komuniciranja" – bo spremenila vaš odnos do komuniciranja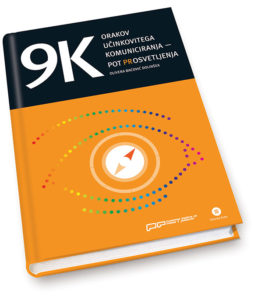 Komuniciranje kot ključ reševanja problemskih situacij
O knjigi
Knjiga razkriva svojevrsten pristop h komuniciranju, ki temelji na neločljivi povezavi med komuniciranjem in osebnostno rastjo. Ponuja nam nove pristope in modele za vzpostavitev notranje komunikacije na različnih ravneh zavesti. To nam omogoča osebnostno rast ob delu, ki ga opravljamo, ter razvijanje celovitega odnosa do sebe in družbenega okolja. Predstavlja izziv za načrtovanje, usklajevanje in upravljanje sprememb na osebni, poslovni in družbeni ravni. Komunikator ob tem spoznava, da ni zgolj v funkciji enostranskih interesov, temveč zavzema položaj na samem vrhu upravljavskega tima, z zavedanjem, da je nosilec poslanstva – z uravnovešenim komuniciranjem prispevati k evoluciji sodobne družbe.
Utrinki iz knjige
Popolno razumevanje pomeni sprejemanje brez presodkov.
Komuniciranje pomeni izražanje osebnih vrednot, ki naj bi temeljile na univerzalnih človeških vrednotah.
Posameznih delov ne moremo spoznati brez razumevanja celote, celota pa postane dostopna samo prek spoznavanja posameznih delov.
Spremembe so izzivi za usklajevanje različnijh idej, motivov, interesov in situacij.
Ključ uspešnosti komuniciranja je v prepoznavanju vrednot in zanimivih priložnosti, ki oblikujejo konkurenčne prednosti.
Komuniciranje pomeni oblikovanje in vzpostavjanje odnosov, ki udejanjajo povezave na partnerski, timski in družbeni ravni.
Zaključek
V knjigi "9K" ne gre torej za povezovanje različnih komunikacijskih orodij ali področij komuniciranja, temveč za povezovanje mnogih vidikov, ki olajšujejo razumevanje izzivov komuniciranja in potreb po spreminjanju na različnih ravneh, ki nam jih prinaša današnji čas.
(Janja Požar, MBA, ABC, Po.svet, d.o.o., direktorica)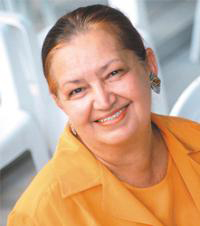 "Reševanje problemov je odvisno od načina, kako jih obravnavamo, in odnosa, ki ga vspostavimo do njih." – Olivera Baćović Dolinšek
O Avtorici
Olivera Baćović Dolinšek, univ. dipl. bibl., je soustanoviteljica agencije za integrirano komuniciranje Informa Echo, kjer dela kot strateška svetovalka. Raziskovanje in povezovanje različnih področij, ki so neposredno ali posredno povezana s področjem komuniciranja, doživlja kot svoje poslanstvo. Knjiga KOMUNICIRANJE KOT KLJUČ REŠEVANJA PROBLEMSKIH SITUACIJ – Pot PRosvetljenja je njena druga knjiga. Naslov njene prve knjige je Brušenje diamanta.
Izdajatelja
Slovensko društvo za odnose z javnostmi
Informa Echo
---
Cena 30 €
---
Knjigo / 427 strani, trda vezava s ščitnim ovitkom / lahko dobite:
---
Kaj o knjigi mislijo drugi
Nisem še prebrala boljše knjige s tega področja, ki bi bolj doživeto, enostavno in s konkretnimi primeri iz žljivljenja tako prepričljivo razlagala zapletene ter težavne procese komuniciranja.
(Janja Požar, MBA, ABC, Po.svet, d.o.o., direktorica)
S to knjigo se ne izobražujemo, z njo rastemo.
(Jana Bogdanovski, svetovalka za odnose z javnostmi, Zavod RS za varstvo narave)
Knjiga prinaša poseben pogled na to, kaj sploh je komuniciranje in kako ga lahko zaznavamo kot osebe – posamezniki, kot ljudje – del družbe ali kot strokovnjaki, ki delujemo na področju sodobnega poslovanja in trženja. Povezljivosti znanosti, kot so ekonomija, filozofija, psihologija, in njihov vpliv na gradnjo in razvoj komuniciranja, o čemer razmišlja avtorica, dviguje raven našega običajnega razumevanja stvarnosti ljudi in okolja, ki ga gradimo – prav s komuniciranjem.
(prof. dr. Maja Makovec Brenčič, Ekonomska fakulteta v Ljubljani)
S to knjigo bo enkrat za vselej jasno, PR-ovec ne more biti vsak. 
(Mateja Kocjan, sodlavka za odnose z javnostmi, Zavod RS za varstvo narave)
---
Nagrade
Agencija za integrirano komunicirannje – Informa Echo, ki dolga leta deluje po principih opisanih v knjigi "9 korakov učinkovitega komuniciranja" je sprejela vrsto nagrad:
2019
Nagrada za inovacije na področju tehnologije ozaveščanja o čisti energiji
2019
Award for Innovation in Clean Energy Awareness Technology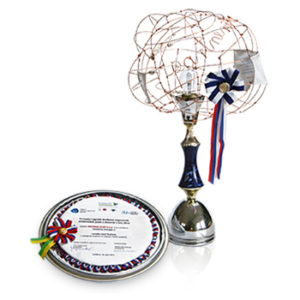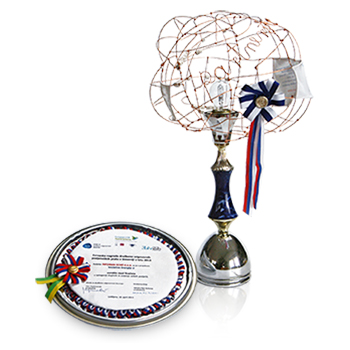 2013
Prva evropska nagrada za družbeno odgovorna podjetniško prakso
2013
European CSR (Corporate Social Responsability) Award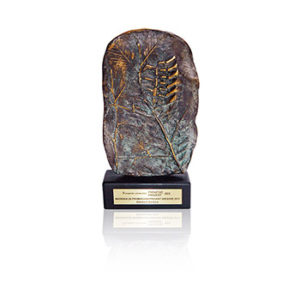 2013
Slovenska nagrada za
najboljši promocijski projekt URE, OVE
2013
First European Award for social responsibility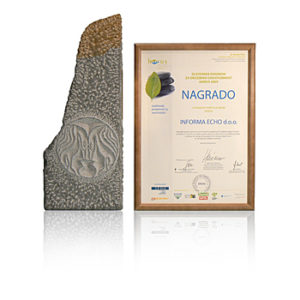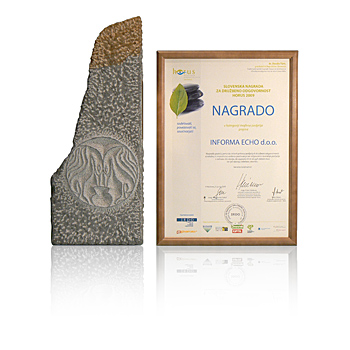 2009
Prva slovenska nagrada za družbeno odgovornost
Horus
2009
First Slovenian award for social responsibility – Horus

Preverite koliko lahko prihranite pri ogrevanju, klimatizaciji, električnih napravah in osebnem prevozu.